Studio Art studies include traditional visual mediums: drawing, painting, ceramics, sculpture, printmaking and mixed media. These fine art mediums allow students to express themselves in deeply creative ways, while also understanding and applying artistic concepts such as color, form, line, shape, space, texture, and value in sophisticated ways. Studio artists will learn through a lens of culturally informed art history, contemporary practices, portfolio development, and implement professional practices within the art career field.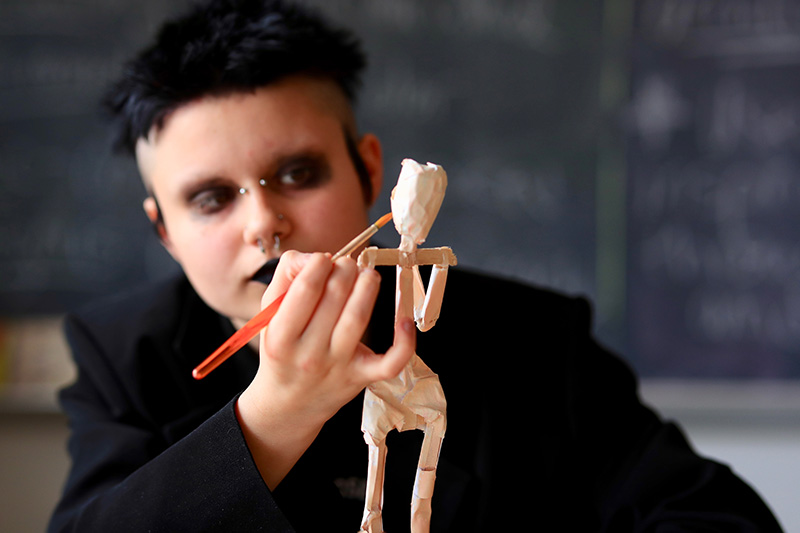 Students begin their studies with a foundations course that is designed to introduce the basics of a studio art class including topics about:
Safety
Classroom procedures
Vocabulary
Principles & elements of art & design
Introductory use of 2D & 3D materials and tools
Conversations of the historical/ cultural context of art.
Upon completion of the introductory lessons, students advance to upper-level courses that continually expand upon and challenge students' understanding of specific mediums as well as the function of art and the role of an artist in contemporary society.
Studio Art students enter senior year taking advanced courses in mediums that specifically interest them. These courses set ambitious goals for students and are partially student-directed. This approach allows them to delve deeper into concepts, media, artists, and functions of their work that are of particular importance to them. Portfolio and career readiness are emphasized as are contemporary art and industry practices.
Studio Art students are held to a standard of excellence in regard to their work and practices. Communication is paramount, students are expected to discuss their work, intentions, and choices while engaging in conversation and discourse about their peers' work. Exhibitions and public events are a focal part of the department. Contribution and participation are expected.
Audition/ Portfolio requirements:
Students are expected to show an interest in the visual arts. They should compile a portfolio of work that showcases their interests and skills in drawing. Portfolios are encouraged to show the best of students' ability in understanding the principles and elements of art and design in a variety of media. Portfolio reviews will include an evaluation of work and conversations about students' intentions, interests, and methods of making art. Students are encouraged to come with questions about the program and school.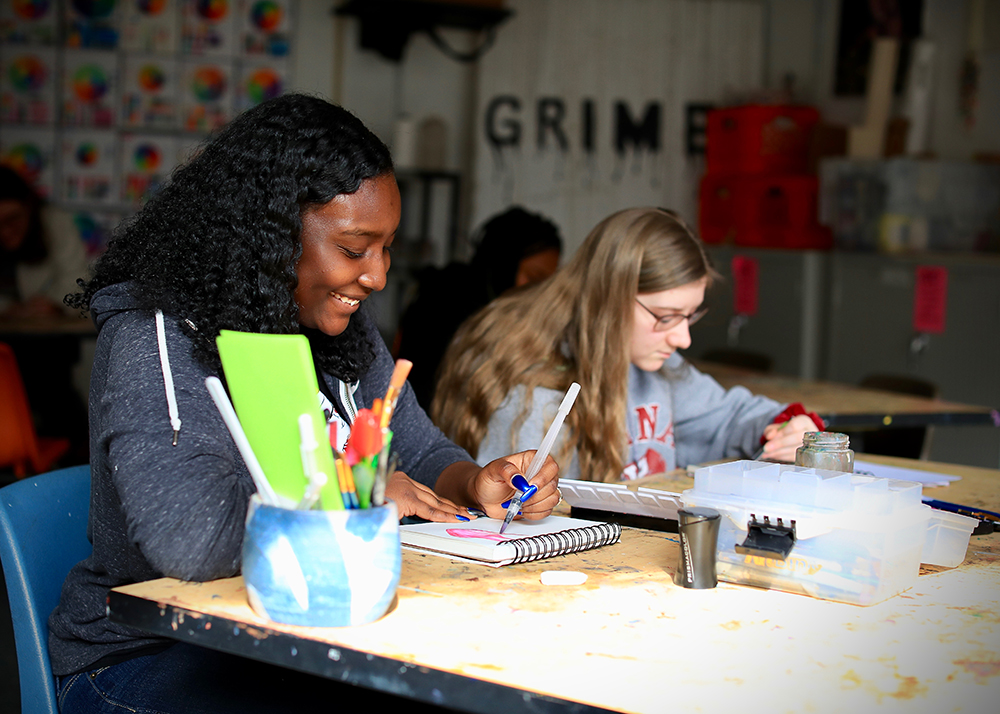 Opportunities/Events:
Regular Exhibition space around the WAA facilities Fall Coffee Shop
Spring Lemonade Stand
Art Festival
Outside organization Open calls and Exhibitions
Clubs/ Service Organizations:
National Art Honors Society
Past Awards:
2x Silver Key Award Winner – Scholastic Art And Writing Awards
https://www.artandwriting.org/awards/recognition/
Past Masterclasses:
Visiting Artist Series Featuring 20+ artists who spoke with Students
Studio Visit Series – Juniors & Seniors visited Gingerly Press printmaking studio in Lawrenceville
Studio Arts – Foundations
Intro to Studio Arts
Studio Arts Level 1 is the baseline (foundations) of the program and will establish students' understanding needed for the rest of their time at WAA in Studio & Digital Art. This course is designed to introduce the basics of a studio art class including safety, classroom procedures, vocabulary, the principles & elements of art & design, introductory use of 2D & 3D materials and tools as well as begin the conversation of the historical/ cultural context of art. At the end of the year, students should submit a portfolio for consideration to be accepted into Foundations 2 for either Digital or Studio Art. Students who do not meet the expectations are placed in a Visual Communications or General Arts Track.
Studio Arts Level 1 – 4 quarterly Level I courses:
Drawing I
Sculpture & Ceramics I
Printmaking I
Painting I
Studio Arts Level 2 will build upon students' baseline skills from SA Foundations 1. In focused semesters, students will touch on drawing (perceptive, line weight, value), painting (water-based media, color theory, texture), printmaking (relief, monotype, and collagraph), and sculpture (mass/ volume, relief, and sculpture in the round) specifically. Students will be expected to support their work through conversation, presentation, and written support. Studio Arts Level 2 encompasses elements previously taught in Drawing I; Painting I; Sculpture I; and Printmaking I.
Studio Arts Level 2 – 4 quarterly courses:
Drawing II
Sculpture & Ceramics II
Printmaking II
Painting II
Studio Art Level 3 – This course will build upon students skills from Studio Arts Levels 1 & 2. In focused semesters, students will touch on drawing (figure drawing, 3-point perspective, foreshortening), painting (oil & water-based media, specific explorations of Eastern and Western art history), printmaking (relief, intaglio, screen printing), and sculpture (installation, modeling, kinetic sculptures) specifically. Students will be expected to support their work through conversation, presentation, and written support. Studio Arts Level 3 encompasses elements previously taught as Drawing II; Painting II; Sculpture II; and Printmaking II.
Advanced Drawing
Advanced Sculpture & Ceramics
Advanced Printmaking
Advanced Painting
Advanced courses enable students to further explore and build upon the knowledge developed in Studio Arts Levels 1 – 4. Courses emphasize students finding and defining their personal interests and artistic style. Students will be challenged to create large-scale, ambitious works through research and experimentation. Advanced courses have a prerequisite for each area of interest. 
Austenne Gniadek | 412-646-1718 ext. 8026
Austenne Gniadek earned a Bachelor's in K-12 Art Education and a Master's in Further Studies in Secondary Education both from California University of Pennsylvania. Austenne began teaching at Westinghouse Arts Academy in the spring of 2021, currently the faculty leader for Westinghouse's summer art camps and WAA's chapter of the National Art Education Association. Austenne is also an avid art history enthusiast and loves to learn and discuss art throughout time. Austenne aims to teach empathy, creative problem-solving, and creative thinking in all aspects of the curriculum.
Makenna Wingrove | 412- 646-1718 ext. 8027
Makenna Wingrove holds a Bachelor's degree in Art Education from Penn West University. She is a jack of all trades but enjoys sculpture, ceramics, and printmaking most of all. Makenna began teaching at Westinghouse Art Academy in 2021. Her teaching philosophy encourages students to tap into their own unique artistic talent while also being pulled out of their comfort zone. Creativity is essential to succeed in an interdisciplinary education and students should be encouraged to express their individuality. When she is not at school you can usually find her at the AMC movie theater surrounded by buckets of popcorn.
Emily Newman | 412-646-1718 ext.
Emily Newman was born in Singapore, raised in London, and settled in Pittsburgh about 10 years ago after years of living and traveling all over. Since then she has taught art extensively in Pittsburgh all the way from elementary to collegiate levels. She received her Bachelor's degree from Bard College in New York, her Master's of Fine Arts from CalArts in Los Angeles, and her Master's of Art Education from Chatham, here in Pittsburgh. She is a Fulbright Scholar and has shown her work internationally, most recently in 2022 at the Mattress Factory Museum in Pittsburgh where she displayed a wide array of works in video, interactive sculpture, and screenprinting. Her work is located directly at the intersection between digital and studio and she is excited to work with students across those disciplines while teaching at Westinghouse.
Want to learn more, enroll or schedule a tour?